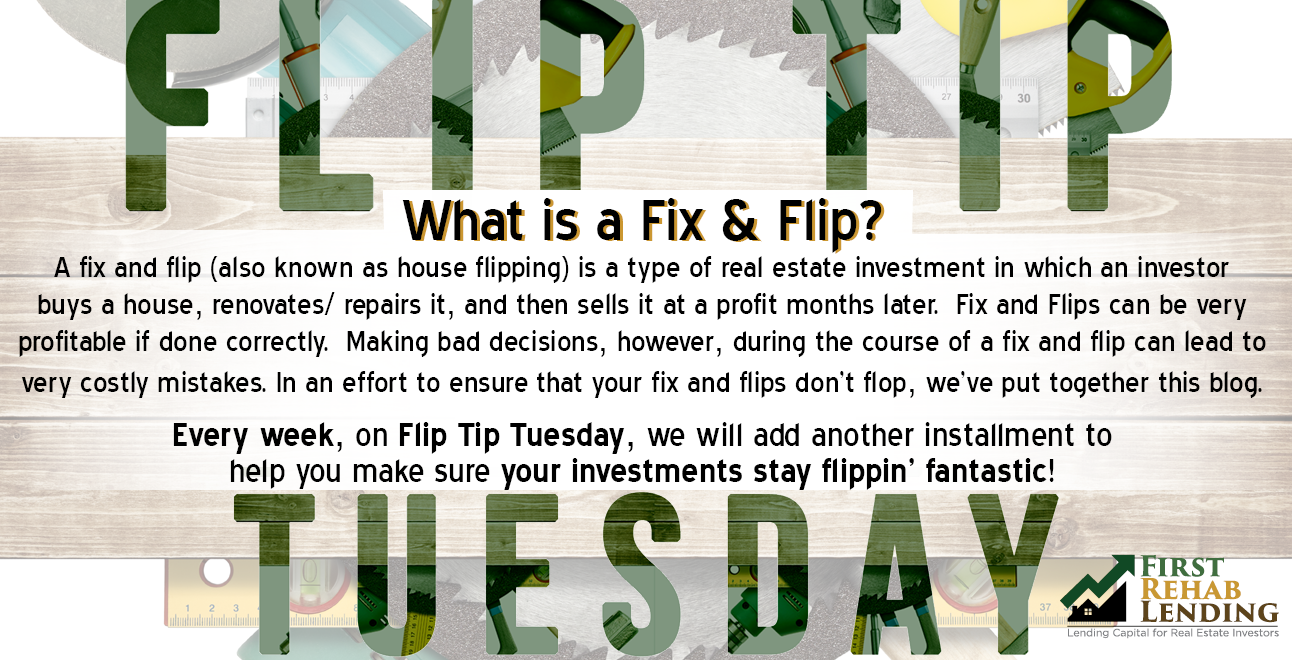 What is a Fix and Flip?
A fix and flip (also known as house flipping) is a type of real estate investment in which an investor buys a house, renovates/ repairs it, and then sells it at a profit months later.  Fix and Flips can be very profitable if done correctly.  Making bad decisions, however, during the course of a fix and flip can lead to very costly mistakes.  In an effort to ensure that your fix and flips don't flop, we've put together this blog.  Every week, on Flip Tip Tuesday, we will add another installment to help you make sure your investments stay flippin' fantastic!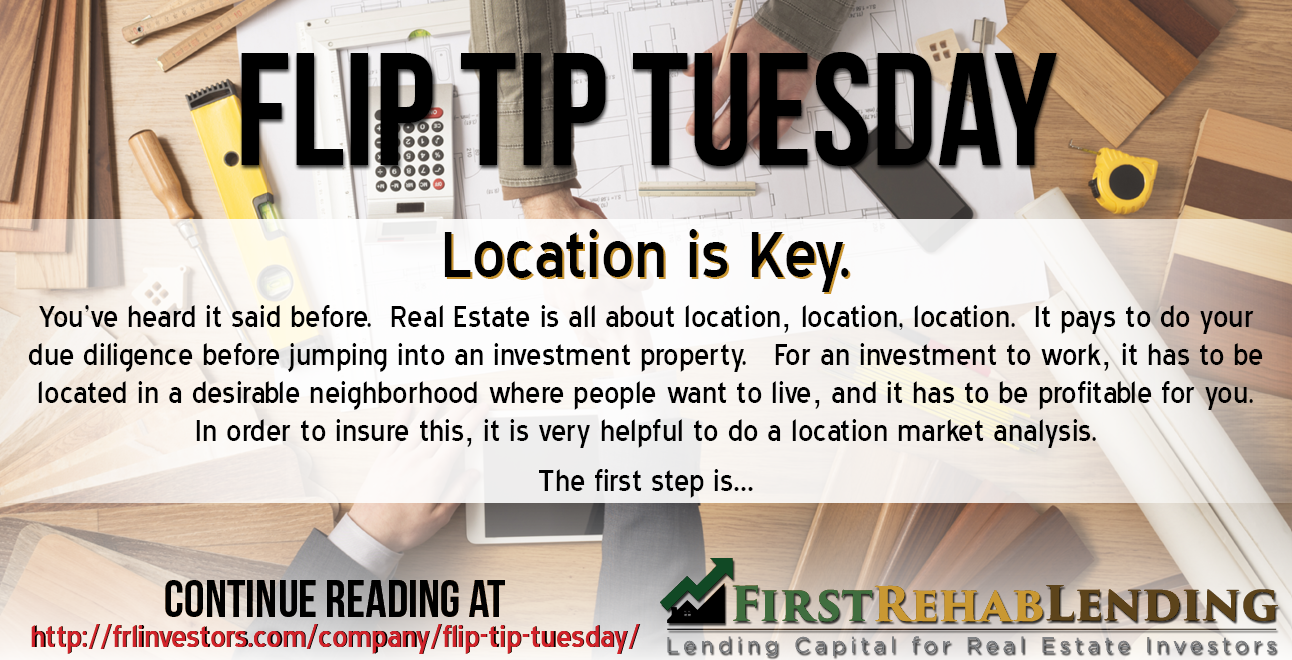 #1: Location is key.
You've heard it said before.  Real Estate is all about location, location, location.  It pays to do your due diligence before jumping into an investment property.   For an investment to work, it has to be located in a desirable neighborhood where people want to live, and it has to be profitable for you.  In order to insure this, it is very helpful to do a location market analysis.
The first step is to make sure your location is in a good investment area.  Factors to consider include the following.  The local area job market and median salary trends of your investment location will determine if people can afford to buy your investment.  It may also be helpful to consider if this is an up and coming area, and whether the population is increasing or decreasing.  This will definitely impact your ability to sell your investment property for a good profit.
The next thing to consider is if your investment property is in a desirable neighborhood.  There are many factors that go into this:  school district, access to highways and public transportation, accessibility to shopping and restaurants, scenic views, local attractions, safety and crime rates, property tax rates, etc…
There are many resources you can use to find out this information.  The best place to start is your local realtor.  Realtors are a great source of information for market trends and location information.  But don't let your research end there.  There are a plethora of websites that can aid in your research.  Among them are Chambers of Commerce, your local realtor associations, market reports on Trulia and Zillow, and many more.  Also, don't be afraid to talk to other investors and residents in the area.  Often times they can add valuable insight into location trends.
Once you've found your ideal investment property location, you are well on your way to making a profitable fix and flip investment.  Tune in next week for our discussion on Timing… Until then, Happy Flipping!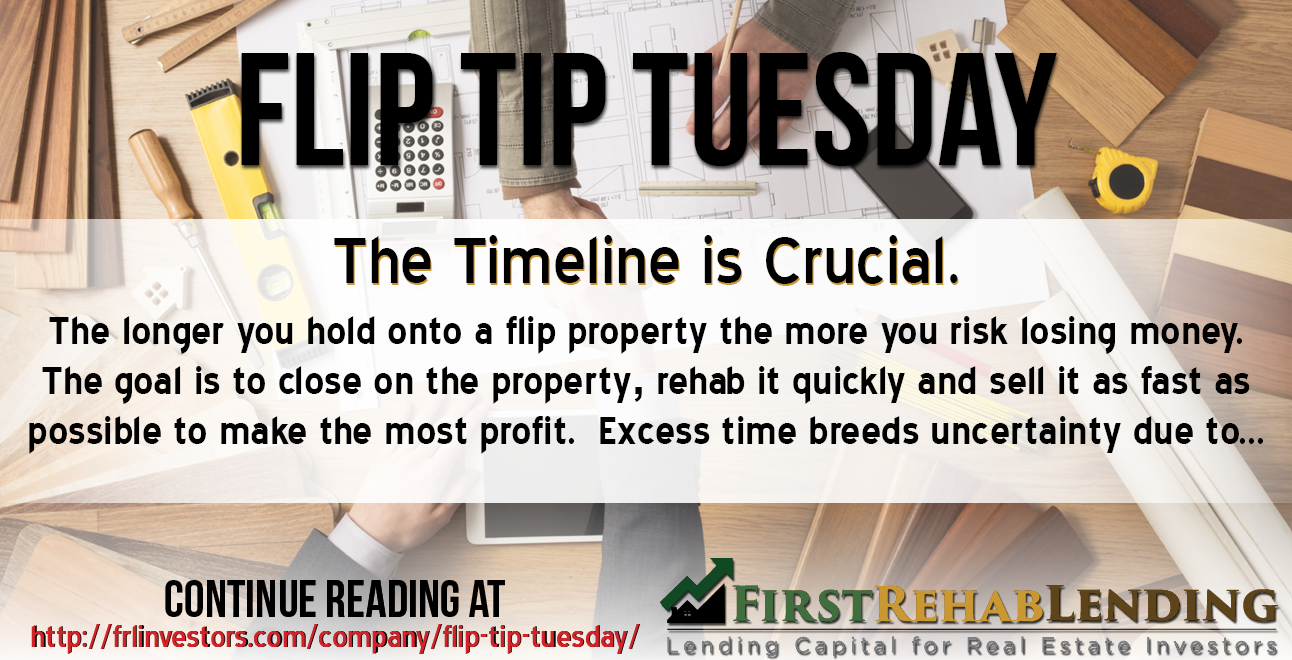 #2: The Timeline is Crucial
The longer you hold onto a flip property the more you risk losing money. The goal is to close on the property, rehab it quickly and sell it as fast as possible to make the most profit.  Excess time breeds uncertainty due to uncontrollable circumstances.  Any number of things can happen. The market can take a turn for the worse.  You can experience problems during your renovation.  You could experience delays because of weather.  And all the while interest keeps accruing on any financing you may have.
In order to execute your fix and flip as quickly as possible you must be prepared and organized.  You should have all of your service professionals in order before you start:   your financing, your contractor(s), the realtor who will sell your finished project.  These are the people who could make or break your deal.  Be sure to check their references, get competing bids, and familiarize yourself with their style of conducting business.
You should also make sure you are familiar with the municipality's procedures, rules and regulations regarding renovations so you are not blindsided by difficulties obtaining permits or actually performing the work.
Remember to factor in the time it will take to have the house on the market before it sells.  Your realtor is your best source of knowledge on this topic.  The realtor can tell you the average days on market for your location and help you price the property right so it sells as quickly as possible.
The more research you do before you purchase the property, the less time you will waste during the process, and the more money you can put in your pocket at the end.   In the coming flip tip Tuesdays we will go into more details on many of the items that we've mentioned above so stay tuned.  Until then, please contact us if you have any questions.   Happy Flipping!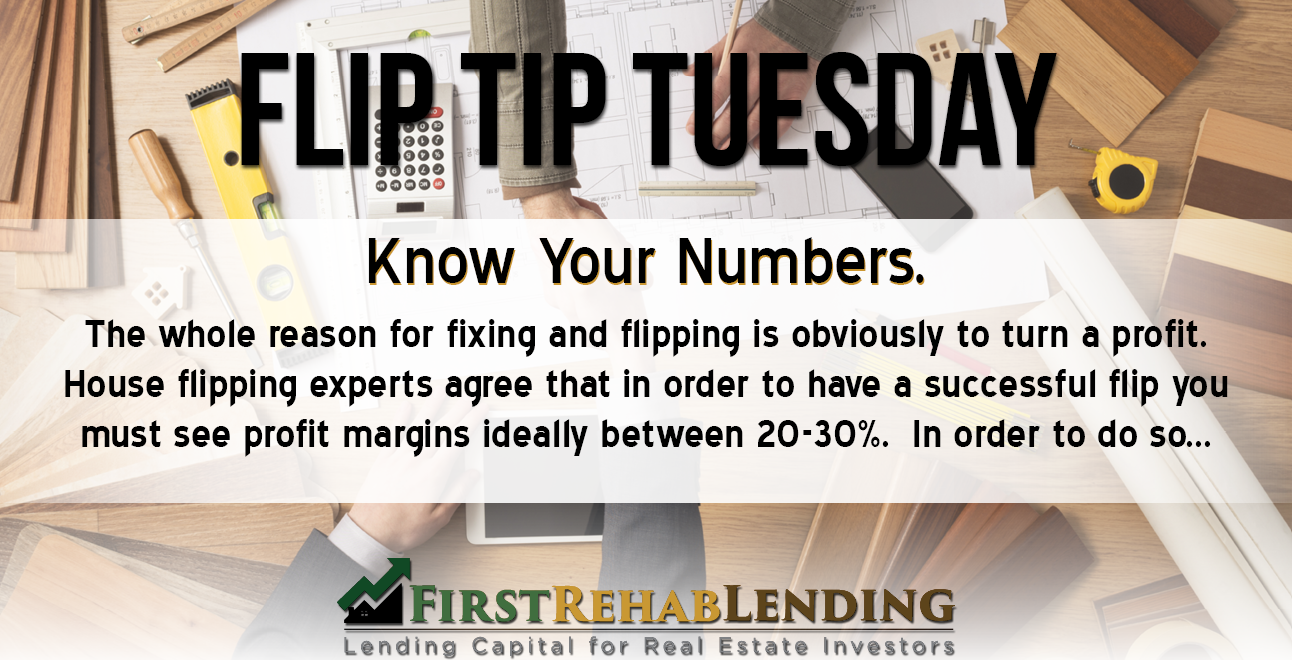 #3: Know Your Numbers
The whole reason for fixing and flipping is obviously to turn a profit.  House flipping experts agree that in order to have a successful flip you must see profit margins ideally between 20-30%.  In order to do so, it's important to know your numbers from the very beginning to make sure that your investment will be worth it in the end.
The most important number to know is the After Repaired Value (ARV). That is the value of your investment property after all repairs have been made.  This value will determine the final sales price of your investment property.  Your best source of information for this is a knowledgeable area realtor.  A capable realtor can run a Comparative Market Analysis (CMA) of the similar houses in the area to determine how much your rehabilitated investment property would be worth.  This is very important information.
Once you know the ARV you can subtract all the costs of buying and rehabilitating to calculate whether your flip house will turn the profit you need to make it successful.
It is important to know and not underestimate all the costs involved.  Below is a list of costs that could be associated with your flip project:
Acquisition costs (purchase price, inspections, closing costs, recording fees)
Carrying costs (Insurance, taxes, maintenance, utilities, etc. …)
Loan costs (appraisal fee, processing fees, interest, points on your loan, etc. …)
Rehabilitation costs (costs of doing any repairs and renovations)
Selling costs (real estate commissions, recording fees, closing fees, etc. …)
Of all of these costs, the most difficult to pin down are the rehabilitation costs.  It's imperative to get competing bids from trustworthy contractors for the work you need done before you actually buy the flip house.  This will ensure that you are getting the best price and best professional advice.  And even then, your cost estimates may be too low.  The reason for this is that once you start repairing/ renovating a house you often find repairs or problems you weren't counting on.  This can happen to even the best and most experienced contractors.  Even they can't see through walls.
Another variable to consider is that it may take longer to sell the property than you were anticipating, thereby increasing your carrying costs.  Because of these contingencies, it is smart to add a miscellaneous costs line item of 15-20% of your rehab and carrying costs to your calculations so you are not cut short on your budget.
All of these costs together subtracted from your After Repaired Value (ARV) represent your gross profit.  If it's between 20-30% of the ARV, you most likely have a successful flip.
Once you know your numbers and have your budget established, respect the budget.  If the numbers don't make sense on paper, they certainly will not make sense in real life.  It's always much better to skip a flip project than to sustain a loss.  Remember to tune in every Tuesday to get helpful tips on your flips! Until then, Happy Flipping!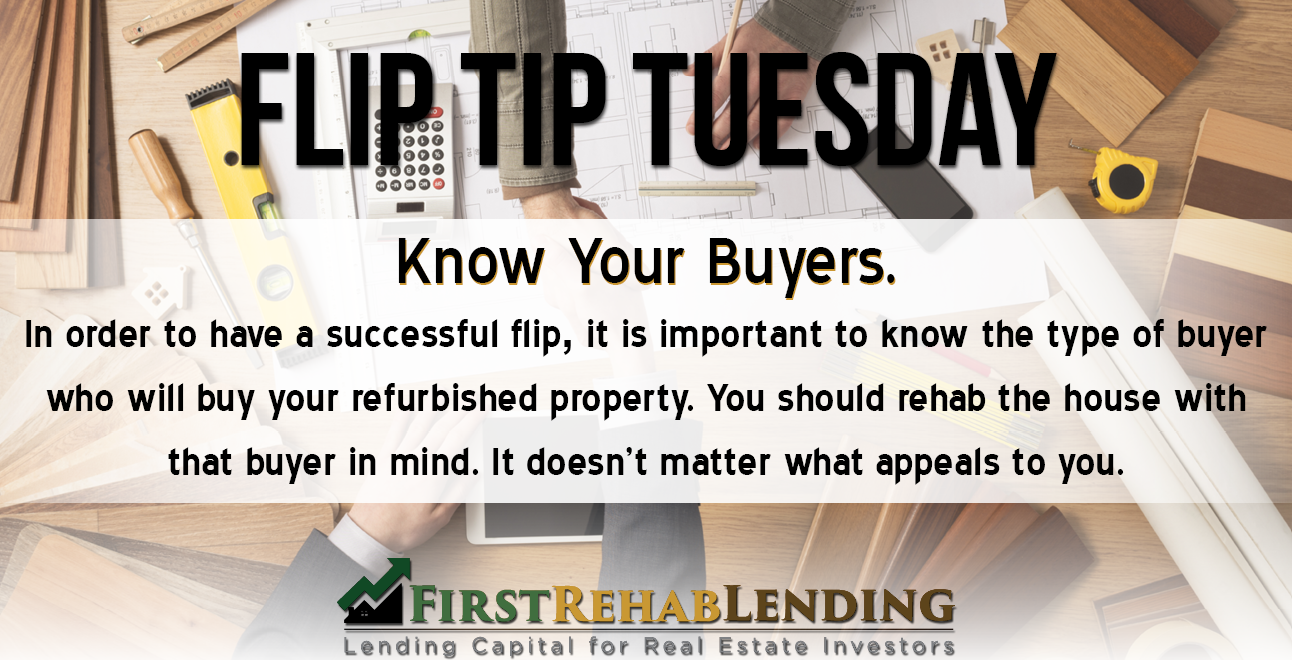 #4: Know Your Buyers
In order to have a successful flip, it is important to know the type of buyer who will buy your refurbished property. You should rehab the house with that buyer in mind.  It doesn't matter what appeals to you.
The location will determine the type of buyer you will attract.  What kind of neighborhood is the house located in? Is it a neighborhood with many young families or an older community with many retirees? What is the median income of the area? Is there a special interest that draws people to that neighborhood?
If your flip house is in a neighborhood with a great school district, for example, your target buyer is most likely a younger family.  For young families, an open floor plan may be more desirable. Plan your layout to make the family area open and inviting, but also provide enclosed spaces to give the parents the privacy they need. Make sure there are enough bathrooms throughout the home.  In young family homes, the parents are compromising on the size of the master bedroom in favor of the kids' rooms. An extra selling point could be adding a playroom/study area that would give the parents that extra space to grow with their children.
If you're looking in a neighborhood that draws in mostly retirement-aged buyers, look for a rehab home with one level or a ranch style. These buyers are looking for a home that will work for them as they get older with a layout designed for universal accessibility. This might be their last home purchase so you want to consider adding in features that will make life easier: slip resistant surfaces, twist-free faucets and maintenance-free outdoor space.
Once again, your realtor is a great source of information on the neighborhood and the types of people who are attracted to it.  Beyond that, look in local publications to get a feel for the type of community it is.  Drive around and see for yourself.  Who lives there?  What types of stores and restaurants are there?
Just a little research will help you understand your potential buyers and what types of features might be important them.  Designing your rehab with these features in mind will be the difference between a quick and easy sale and a house that stays on the market for months without any offers.  It pays to do your homework!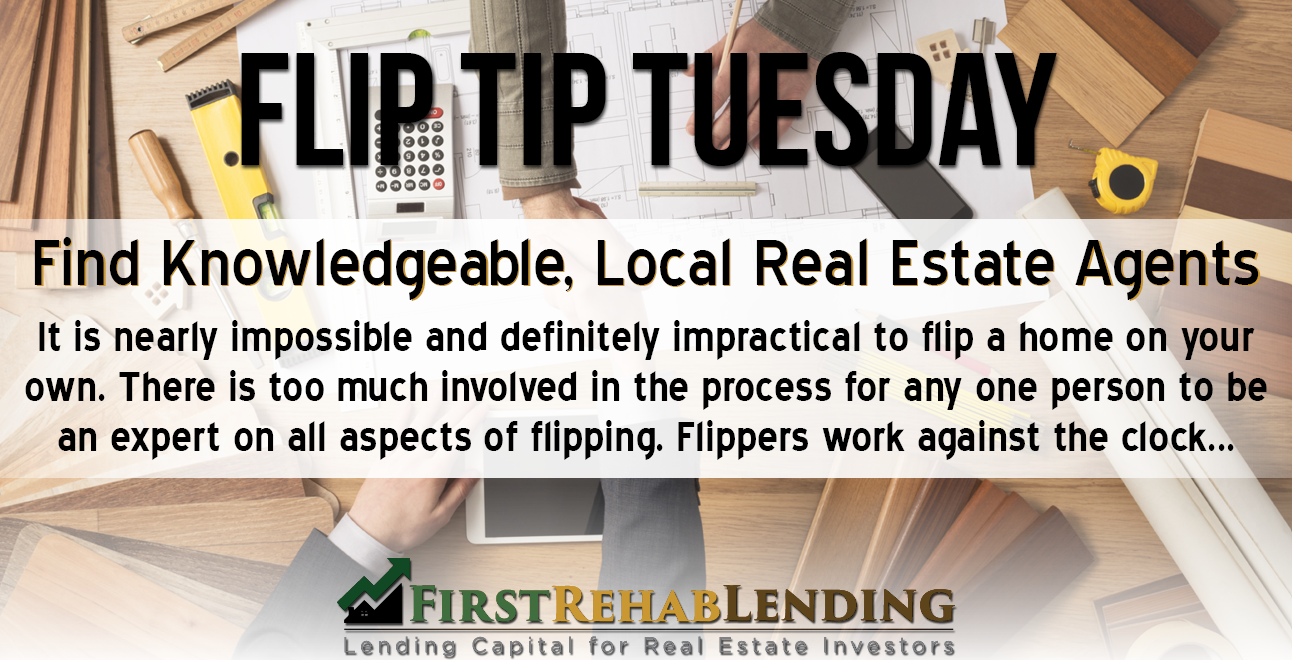 #5: Find Knowledgeable, Local Real Estate Agents
It is nearly impossible and definitely impractical to flip a home on your own. There is too much involved in the process for any one person to be an expert on all aspects of flipping. Flippers work against the clock, having to locate the right property, then renovate it on budget, and finally turn it around and sell it before the financing costs eat up their profits. It's important to build a strong team of professionals to help you on your projects and to ensure you complete them in a timely manner with the maximum profit in each flip.
The first set of specialists you need on your team is a few great real estate agents who are experts in the markets you are working in. Good realtors are knowledgeable about house values in their market, market conditions and trends, market demographics and which features make a house sell more quickly in their market.  Building relationships with real estate agents can also get you property listings before they hit the market, giving you the advantage to bid and close on a property first.  They also have the experience and skill set needed to make sure your flip is priced to sell when you're ready to put it back on the market so that it moves quickly.
Real Estate Agents can also be useful for finding "off market" short sales, estate sales and wholesales. If you find a real estate agent with a direct link to the asset managers from a bank, you will be in a great position to know ahead of anyone else when deals become available.
When searching for a real estate agent there are a few things to look for.  An ideal real estate agent has years of experience and knowledge in the area in which you are investing and can assist in your negotiations. A great place to find an agent that will understand what you're looking for is at your local Real Estate Investment Association (REIA).  Be sure to interview and research your agent.  You should be readily able to find your agent online, and with little effort, be able to see how active they are in the market place and whether they have good reviews from other investors.  Ask for references and a detailed description of how they can help you achieve your goals.
When working with an agent, it is a good idea to inform him/ her about your business model and where you are looking to invest. Create a relationship where the agent can make money by selling the property to you as well as selling the property for you when the renovations are complete, and you will have a loyal agent who is actually part of your team.
Having a solid team of realtors on your side can make or break your flips.  With some research and perhaps a little trial and error, you should be able to build a cohesive team of realtors to help you ensure that your investments stay profitable and on target.
Be sure to tune in next week to read about what other specialist can help you lock in your profit!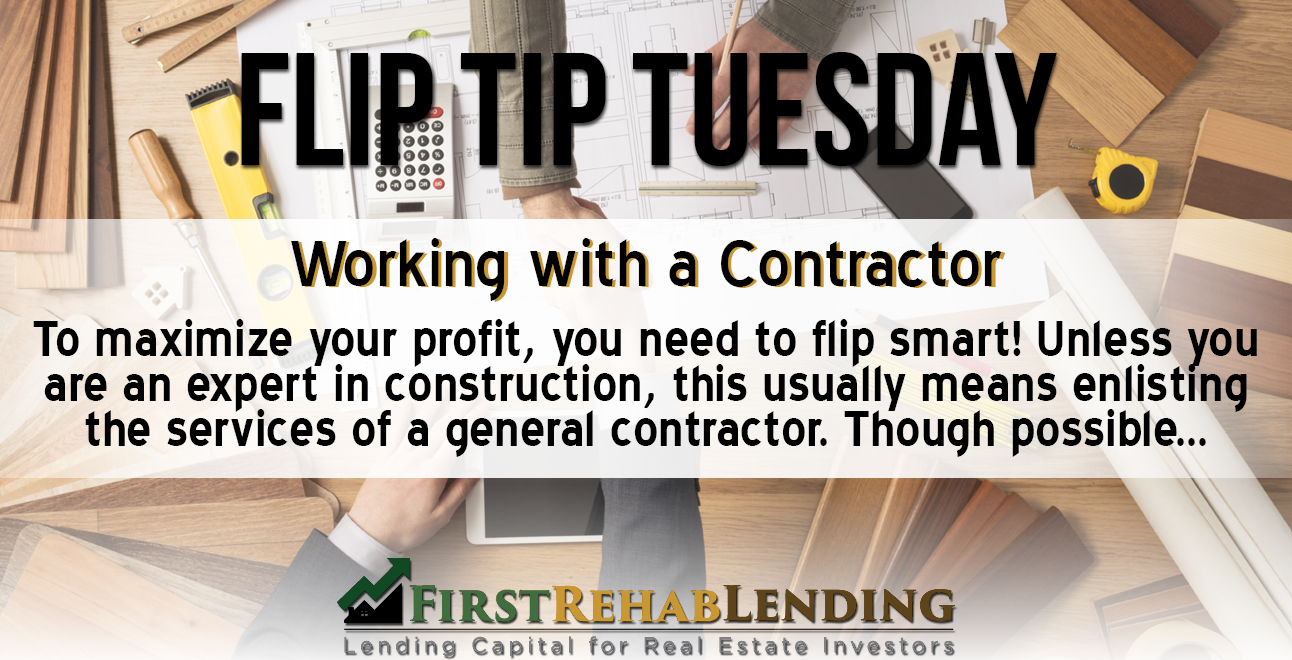 #6: Working with a Contractor
To maximize your profit, you need to flip smart! Unless you are an expert in construction, this usually means enlisting the services of a general contractor. Though possible to complete a flip without a contractor on your team, you may waste time and money rehabbing a home without using their expertise.
If you're new to the flipping industry buying a rehab home that just needs a little cosmetic work may seem very do-able.  Often times, however, the best deals are the ones that require the most construction work.  Additionally, there are many factors to consider that may not be so obvious to someone who is not well versed in construction.  For example, the age of the home can affect the electrical and plumbing systems, and renovations to the kitchen and bathrooms. For most house flips, the time you'll spend doing things that otherwise could be done by a professional may cost you more money.
Contractors can be helpful throughout your flipping process. Before you even buy your flip house, you can use their advice on how much you will spend repairing and updating the house so you can determine if there is enough room to turn a respectable profit. After you've purchased the property and start the renovations, a general contractor will run the entire project to make sure it is flipped in a prompt manner. They manage everything that goes on with your rehab, including hiring subcontractors to get the job done. Managing all this can be a real headache if you don't have a building background.
So how do you find a general contractor who can work within your budget and who has a good track record?  A good starting point is to get referrals from people you trust.  You should definitely get at least 3 competing bids from different contractors to ensure that you are receiving fair pricing and accurate advice.  Each of these contractors should also provide their own references that you can call.  Be sure to check that they have the proper licensing and insurance, including workers' compensation.  Ask lots of questions during the interview process to make sure you and the contractor are on the same page about the renovations and the budget.
Once you have chosen a contractor, the best way to make sure everything runs smoothly with the renovation of your investment property is to have a detailed contract with your contractor that is agreed upon and signed before the work starts. The scope of work for your rehab needs to be written out precisely, including any permits and inspections required to certify the work and to obtain a Certificate of Occupancy, if necessary.  The contract should detail the materials and fixtures including all grades and model numbers, the exact paint colors and finishes, and whether you will buy the materials and deliver them to the job or your contractor will.  It should also spell out the start date, how many days per week they will be working, and a projected end date.  You should understand that sometimes unforeseen circumstances (such as problems that were unseen originally because they were hidden behind closed walls) are possible requiring a change in price and timeline to the contract.  The terms for requesting and approving a change order should be spelled out clearly in your contract to avoid future disagreements with your contractor.  The contract should list any other subcontractors that will be on the job along with their scope of work and their licensing and insurance as well. It should also list who will be responsible for rubbish removal.  Finally, the contract should clearly state the price and the terms of payment.  The more detailed the contract, the smoother your flip project will flow.
Though you may go through a few contractors before you find the ones you like to work with, it's worth the research and the due diligence to do so.  Having a good contractor on your house flipping team will help you to save time and flip within your budget. Leveraging their knowledge and building a solid relationship are some of the biggest keys to success when flipping houses.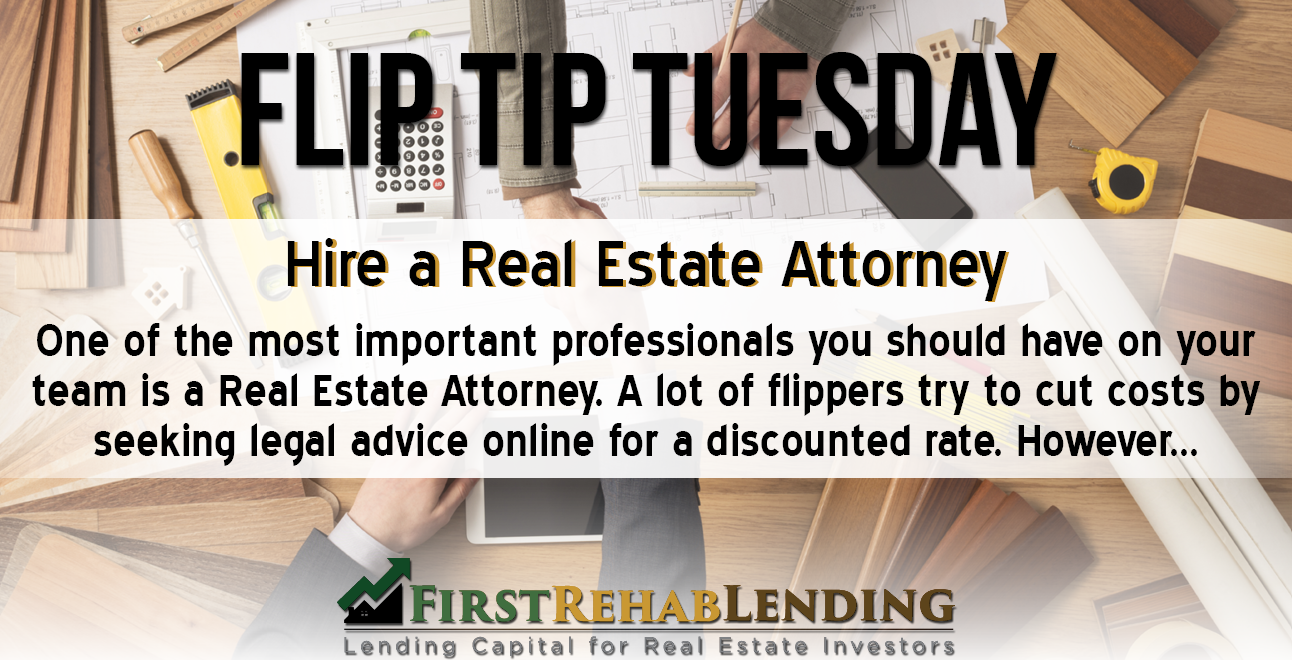 #7: Hire a Real Estate Attorney
One of the most important professionals you should have on your team is a Real Estate Attorney. A lot of flippers try to cut costs by seeking legal advice online for a discounted rate. However, as is usually the case, you get what you pay for. Flipping houses is a tricky business and can get legally complicated quickly.
For first time flippers, attorneys can be helpful in establishing your business venture as a corporation or LLC. You will need to do this if you intend to use outside financing.  For a corporation, you will have articles of incorporation and by-laws and for an LLC, there will be articles of organization and an operating agreement.  An attorney can help you decide which of these options is best for your case.  These entity documents should definitely be prepared by an attorney to avoid delays or issues at closing that can arise from improper formation or documents.
It is impossible for a flipper to keep up with all the laws and regulations in each state for real estate investing.  The best course of action is to hire a professional who does so for a living. Real estate transactions require many crucial documents such as the deed, mortgage loan documents, bills of sale, survey, title and insurance policy. They should all be reviewed for any legal irregularities by your real estate lawyer.
One of the most important documents is the purchase and sales contract since this is essentially what will define your agreement with the seller to buy their property. This contract usually favors the seller, and buyers don't always know what should and should not be included. For example, with time being of the essence, the short inspection period allowed by contract can slip by without the buyer having an opportunity to do a proper inspection. An attorney will be able to negotiate an extension with the seller's attorney. This little bit of extra time can give you the opportunity to make certain that your investment is a good one.  Even if you find latent faults that were not readily visible during your first property tour, with the proper inspection you could give you the opportunity to negotiate the price of the sale down, through your attorney of course.
Investors don't always know what the process will look like as they go through the loan application stage and when they get to closing.  Having a good attorney on your side ensures that someone who represents your interests is making sure the process is going the way it should.
On the day of closing, it is important to bring with you anything that the lender, Title Company, or any other interested party requires such as proper identification, the proper certified checks for down payment and closing costs, a voided check to set up mortgage payments, etc… Your attorney will give you an exact list of everything you need.  At the closing,  he/she will review all the closing documents for propriety, and can offer experienced advice on this overall process.
Although the expense may seem high initially, a good real estate attorney can save you from an investment disaster. If you skimp on legal services, you could pay for it in the long run and may even lose the deal if things don't work out. Having legal representation will diminish your risks of falling into legal snags and increase the profitability of your rehab in the long run.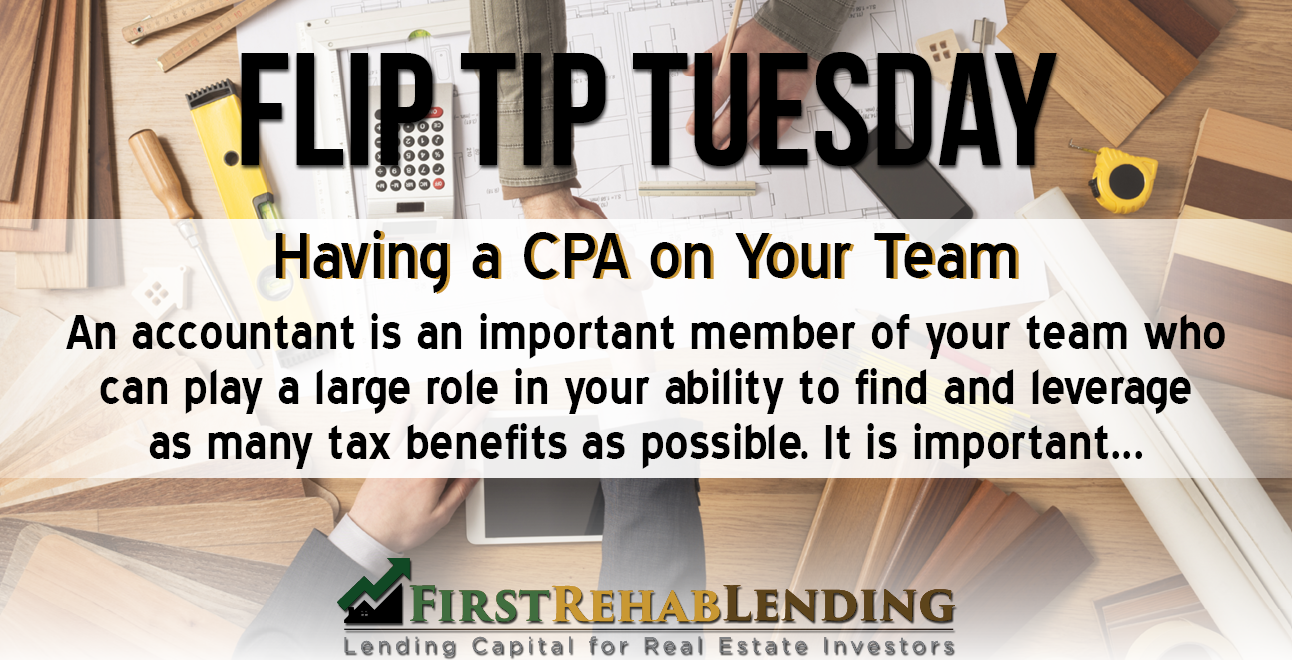 #8: Having a CPA on your team
An accountant is an important member of your team who can play a large role in your ability to find and leverage as many tax benefits as possible. It is important to find a Certified Public Accountant (CPA) who is familiar with tax laws for house flipping and real estate investing. He /she will offer advice regarding the minimization of your tax liability by taking advantage of all possible tax deductions.
An accountant will advise you of the tax advantages and requirements of different business structures, such as, sole proprietorships, limited partnerships, limited liability companies and corporations. He/she will also assist you in keeping your flips organized by tracking your business expenses and preparing tax statements throughout the entire flipping process. When the time comes to sell the property, you will have all the necessary tax requirements in order, which avoids any unseen decreases in final profits.
Having a good accountant will also help prevent issues with the most unintended members of the flipping team, the Internal Revenue Service (IRS) and state tax authorities.  Both will certainly look into your property flipping transactions.  Continual house flipping can lead the IRS and state tax authorities to think you are running house flipping as a business, which causes an increase in taxes and leads to a self-employment tax. Having an accountant on your team ensures that everything is being done correctly under tax law and can save on penalties and fees in the long run.
Another important tax consideration is how long you hold a property. Flipping transactions are taxed differently depending on the length of ownership. If you keep the property for more than a year, federal law rewards you by classifying any profit from the sale as a "long-term capital gain". That means the tax rate on your profit is much lower, maxing out at around 20 percent for investors even in the highest-income tax bracket. But if you flip in less than a year, tax rates can be substantially higher. Money you make by buying and then selling that same property in less than a year is considered a "short-term capital gain" and is taxed as ordinary income-tax rates. Each state tax authority has its own regulations regarding the length of the ownership of the property.  A good CPA will help you navigate all of this so you don't take a large hit to your profits.
So, while a CPA may, at first glance, seem like just another added and unnecessary expense to your flipping business, your accountant is actually the protector of your money. It makes sense to do your research to find an experienced CPA to help keep your flips in profit territory. Until next week, Happy Flipping!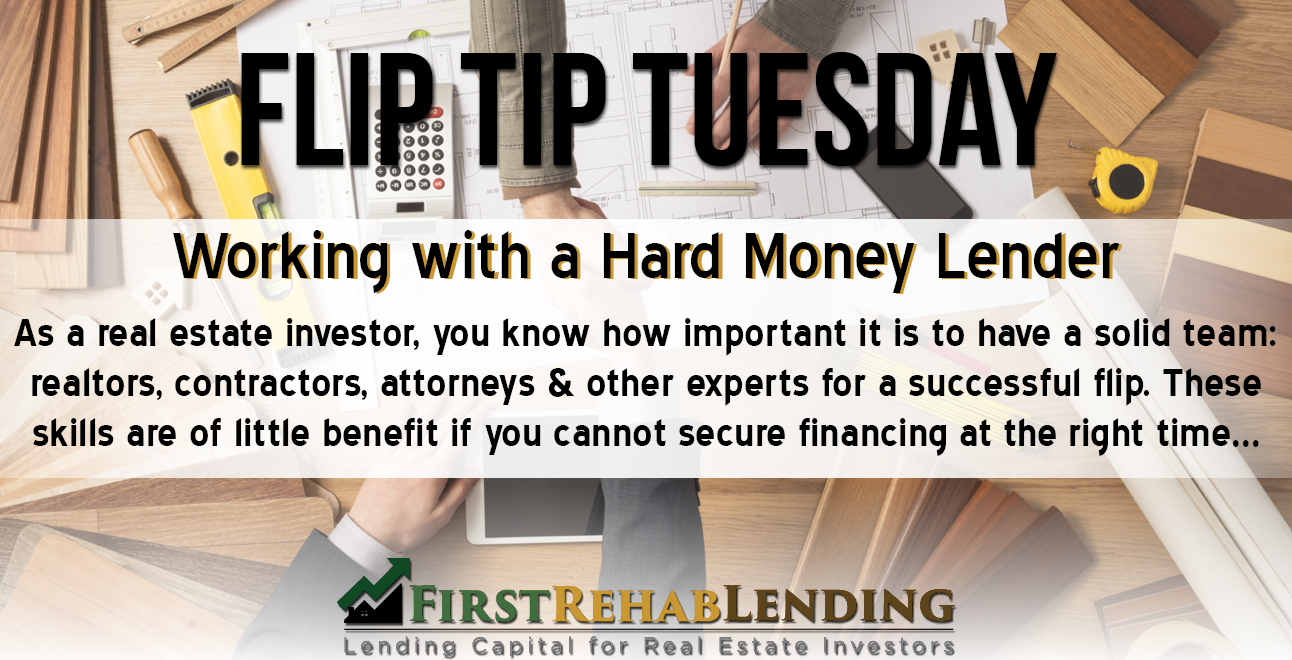 #9: Working with a Hard Money Lender
As a real estate investor, you know the importance of doing your due diligence before picking your next real estate investment.  You are aware that you need a solid team by your side: realtors to help choose the perfect property, contractors you trust to rehabilitate the property, a real estate attorney and other experts to maximize your chances of a successful flip. These skills are of little benefit if you cannot secure financing at the right time. Having a relationship with a reputable hard money lender is essential to your investing success.
A hard money loan is a type of short term asset-based commercial loan offered usually by private money lenders.  A hard money loan differs from a traditional residential mortgage in that it is not regulated by Dodd Frank, the Truth in Lending Act, and other Federal laws that put very high regulatory demands on banks issuing residential mortgages.  Typically, the primary basis for extending the credit is the value of the collateral property. The lender will usually lend between 65-75% of the value of the property.  Because these loans present a higher risk-level for the lender than a traditional mortgage, interest rates tend to be higher.  However, these loans offer higher flexibility, less documentation and quicker approvals and funding than traditional mortgages.
Using a hard money lender can help you get into your project quickly without putting a huge financial strain on your wallet upfront. In the fix and flip industry, timing is everything! Having a quick turnaround time for funds availability on a project is a must. Working with a good hard money lender gives you access to quick funding, which will give you the leverage you need to negotiate effectively with the seller. The reality of having readily available funds is a large incentive for sellers to accept your offer quickly.
Working with a good hard money lender makes getting a loan for your investment property convenient. Applying for a traditional mortgage is time consuming.  It can take months to close on a loan, which puts investors at risk of losing out on an investment property. With a hard money loan, it's possible to get funding in a matter of weeks. Hard money loans are a good fit for investors who need to get funding for an investment property quickly, without any restrictions you would have with bank financing.
There are two other important benefits to using hard money: leveraged returns and the ability to grow and execute more deals simultaneously with a fixed amount of capital. Using hard money in your business model can help you grow your business and diversify your risk across multiple projects.
Like selecting any other team member, you need to do your due diligence when choosing a private lender. Look for lenders that focus on and have experience in fix and flip loans. When evaluating hard money lenders, pay close attention to the fees, interest rates and loan terms. If you end up paying too much for a hard money loan or don't pay within the loan period, this can negatively influence the profitability of your investment property.
In short, using the right hard money lender for your flipping venture can be a huge benefit, increase your profit margins, help you grow your business, and allow you to diversify your investments.  For more information on hard money loans visit www.frlinvestors.com.